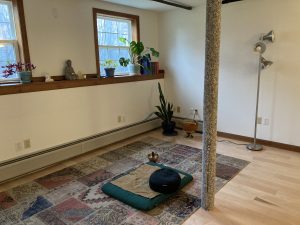 Date
Feb 19 - 26 2022
Expired!
Samadhi Retreat
This retreat will be an opportunity for stepping up our formal practice for a week and letting the mind settle into the steady rhythm that is the basis of samadhi.  It will begin Saturday Feb 19th and conclude the following Saturday evening, Feb 26th.
This retreat will be held in Shelburne, MA, with limited opportunity for in-person practice.  If you would like to participate, contact [email protected] for more info.
SCHEDULE
Please note – friends joining during for only part of a group meditation block should try to come and go on the half hours
6-7:30am : Morning Meditation and Chanting
9-11am : Group meditation
11am :  Lunch
2-5pm :  Group Meditation
7-7:30pm : Group Mettā Practice
7:30-9pm :  Chanting, Dhamma Reflection, Meditation
MEALS:  There is a dana calendar set up for meals which has been taking care of Tahn Pamutto.  Most donors will be providing extra food for Tahn Santi, and anyone else is welcome to join in breakfast or lunch potluck style.
SUNDAY:  The Sunday morning 9-11am group meditation will be canceled to make room for the Santigama Family Group on that day.
ETIQUETTE:  Noble silence is encouraged for all scheduled practice times.  It will be possible to interact during the in-between and break times, but participants around the retreat apartment will be asked to consider ways to support the retreat atmosphere even during breaks.